Guest post from Kristian Still, Assistant Vice Principal, Hamble Community Sports College.
Microsoft's announcement of an all new, fantastically fast (and IMHO attractive), cloud-based email service at Outlook.com that ties into SkyDrive (now you have 7GB of free storage space) and open attachments right inside the new Web apps for Word, Excel and PowerPoint. You can chat or message directly from within Outlook.com, connecting to Facebook messages (not that I am a FB fan), and other networks, (eg LinkedIn of which I am a fan) and will some time later this year integrate with Skype.
It is not for me to tell you how to manage you email INBOX, but there are some handy tools for that too with Outlook.com. There are categories, the very useful 'sweep' feature and also instant actions for reading emails.
Now for the real barrier to changing your email address. Keeping your old, memory filled account, and creating a new professional alias. Well Outlook.com can take care of that.
Step one – Create an Outlook.com account or update or even rename your old account, instantly losing the nickname, underscore and mythical number.
Step two - If you want to keep your memory field email, now take the opportunity to create an alias. In this case, a more professional alias. Basically it appears to create a 'new email account' but its stored in the same INBOX. You might chose to do this if you are looking for a new position at a new school. Creating a bespoke email address for that all important application / conversation email chain. What is even better is that Outlook.com then creates a folder to collect the responses to that alias.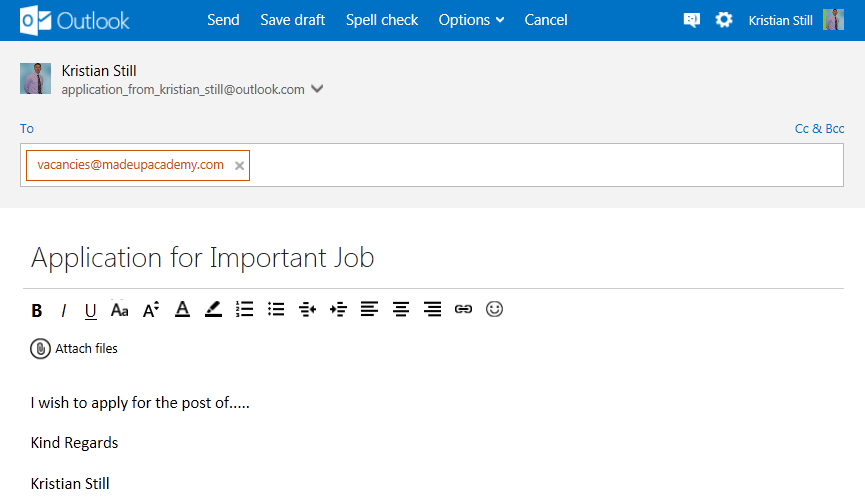 Step three – add and verify additional email accounts to your Outlook.com. They do need to be POP-enabled, but Outlook.com checks that for you. Now, when you compose a new message, you get to choose to send it from any of the associated accounts. Your recipients may see: "From kristianstill@outlook.com on behalf of name@example.com" even though you sent it from Outlook.com. Replies are sent to the originating email address.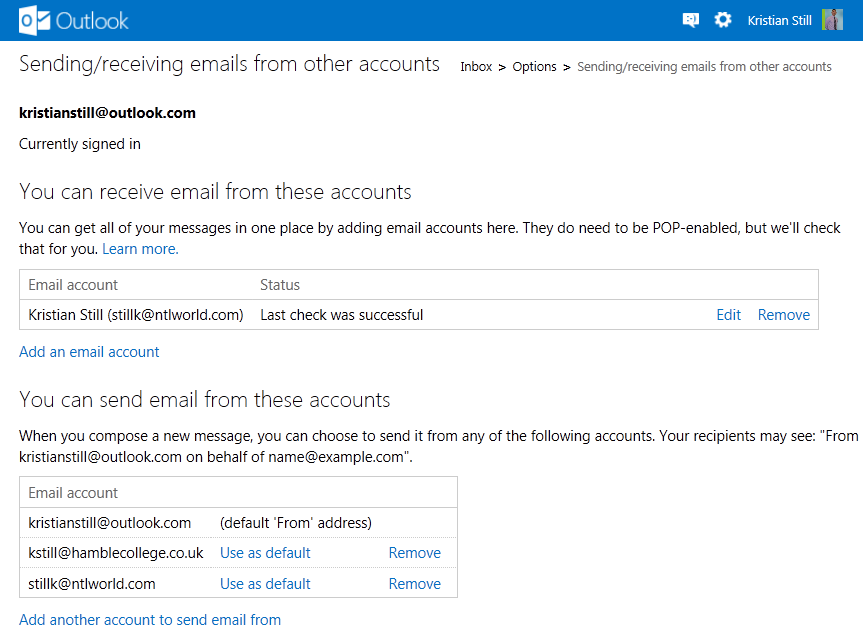 Add Outlook.com and the SkyDrive App to your smart phone and I think you just about have all bases covered.