On the 19th of Nov we ran a dedicated day for developers building Windows Phone apps using Marmalade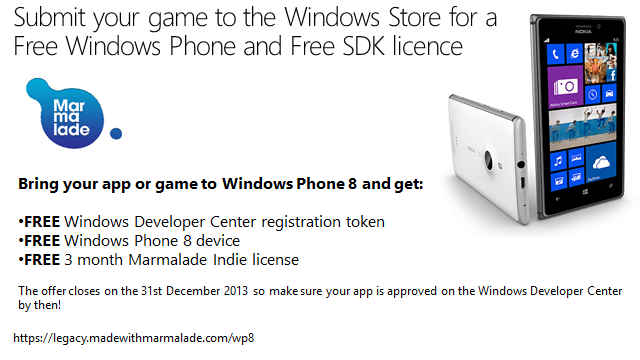 Marmalade Windows Phone Offer
https://legacy.madewithmarmalade.com/wp8/faq
https://www.madewithmarmalade.com/offers/wp8
Here are some video for those who could attend the event..
Building your first Marmalade App for Windows Phone 8
In this video you're going to learn how to build a basic application using the Marmalade SDK, run it on desktop and then run it on a Windows Phone 8 device.
www.youtube.com/embed/_SiF6bwRgho
Getting Started with Marmalade
This tutorial provides the necessary steps for desktop and device set-up for Windows Phone 8 along with the required software to build on the device.
www.youtube.com/embed/5JKTBh1TydY  
Hints and Tips for Windows Phone 8 when using Marmalade
This tutorial explains what's in the Marmalade SDK along with tips to build your games and applications to be deployed on a wide range of tablets, phones, TV's and desktop devices.
www.youtube.com/embed/2nXXO-581VY  
Deploying an Existing Marmalade Game to Windows Phone 8
This tutorial shows how to take an existing Marmalade game from the SDK and how to package it up and deploy to Windows Phone 8.