I can't believe its that time of year again, yes, we in in the middle of preparation for the BETT show 2010. Many of you maybe thinking about Xmas, sorting
presents , writing cards and decorating the tree. None of that for the Partners in Learning team. No , we are busy , like Santa's elves, making sure that we everything we need to let visitors to the Microsoft stand know about the Partners in Learning Network. Ordering USB sticks, packed full of useful information and videos to give away, . Then we have to organise teacher experts to present with us and help on our interactive pods. So, if you want to know more about Semblio in the classroom, then come and visit us at the BETT show and ask them. We can also tell you about and show you the new Partners In Learning Network site, where you can find great resources such as free versions of Autocollage and Songsmith. As well as our very popular InnoVIDS, videos to help teachers use technology in the classroom, about which we will have some very exciting competition news to announce at BETT and on this blog.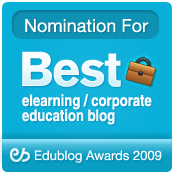 We will also be attending the BETT Awards Dinner, where we have been shortlisted for an award in the ICT Service and support category, with a bit of luck, we may get it, so fingers crossed. More good news is that we have been nominated for an Edublog award, for this blog.
That just leaves me to thank you all for your support, have a great holiday and we look forward sharing a great 2010 with you.