Today I was visiting a PreView Event of IFA (Internationale Funkausstellung) and got a presentation from Martin Vesper, CEO of digitalSTROM.
They are offering a SmartHome solution, powered by Windows Azure Cloud, (German Press Release) which is using a central small server in a house and tiny, Lego Building Blocks lookalike (see picture below), pieces in each electricial power socket to connect a home using Apps, Browser Social Media Services like Twitter.
So which are typical UseCase you might be interested in?
get back from work, enter chillout mood and automatically your stereo system turns on, shutters turn down and lights are dimmed.

Your door bell rings, a camera shoots a picture of the person waiting in front of the door and sends it to your SmartPhone. You open the door by clicking on a SmartPhone App.

You want to wake up at 7am, all lights are automatically turned on in your flat (brighter than in the evening) and sends out a "Good morning, everyone"-tweet

Your wife asks you - while already in bed - to turn off all lights downstairs. You just use your tablet (which already have in your hand) or send out a SMS/tweet to your lights
Demo how to switch on/off lamps by using SmartPhone, Browsers or Apps
So ask you can see the UseCases are about Safety, saving energy and increasing comfort in daily life. digitalSTROM is orchestrating these values to make sure that different apps & interests are not conflicting.
As you can imagine I thought immediately about another, different usage scenarios for my customers. digitalSTROM already works with voice recognition systems like Apple SIRI, so I am highly interested to see an integration with XBOX and Kinect. You could use this entertainment and gaming console to say "turn off shutters!" or "switch off lamps in the kitchen". Using Kinect sensors it should be possible to wave hands to shut down the roller blinds. I asked the CEO (see video link below) if there are any plans to integrate XBOX and Martin Vesper mentioned that they have an open API and encourage users in Hackathon sessions to build own apps for system which are not iOS or Android.
I was also brainstorming about scenarios for enterprise customers which use SharePoint or/and our Social Media offering Yammer. I am going to dive deeper into the field of "Enterprise Social Workflows" and can imagine that there a many UseCases to combine intelligent homes with enterprise software we are building. Let`s just think about the massive amount of office rooms which are illuminating cities brightly in the nights - and nobody is working. I am aware that it is too much effort for the last employee who leaves the building to spend 20 minutes to walk around and turn off lights but a SmartPhone App could really help to save energy and a lot of money. // "Der Letzte macht das Licht aus".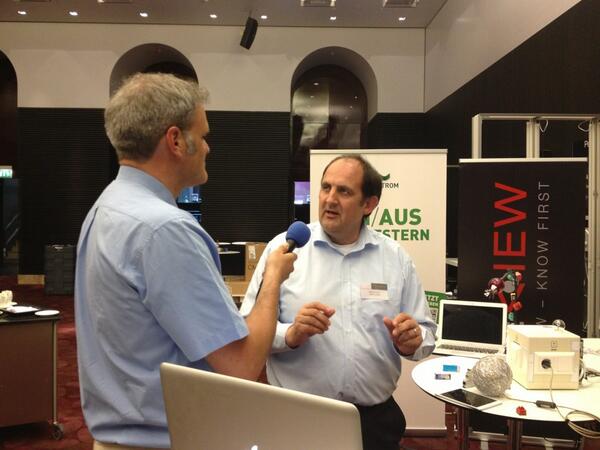 Interviewing digitalSTROM CEO Martin Vesper
Here is the Youtube Video Hannes Schleeh made together with Patrick Schneider and me, interviewing CEO Martin Vesper: https://www.youtube.com/watch?v=TgJEO9YsoPw
Pretty inspiring demo and session, thank you for the invitation, Christine Heller (Social Media Manager digitalSTROM)!
Let me know in your comments: How can an integration of SharePoint & Yammer with these kind of SmartHome solutions can look like and which Scenarios could you think of?