Last week Lono and Doc from Sarcastic Gamer came to our little corner of the world for a behind-the-scenes Surface geekfest. Here they are with Ali, our UX Manager.
Now who exactly is Sarcastic Gamer? It's a great site run by a group of hardcore gamers that happen to be responsible for the most watched viral Surface video out there. You know the one...that's right...The Big A#$ Table. Now if you haven't seen it, then it's time to crawl out from under your rock and check it out...it's pretty funny stuff and well done.
In fact, we're such big fans of that video we thought it would be great to invite them out to campus, let them play around with it and film some of their own footage...see what they might do with even more access. Truth be told, I'm kinda nervous about that...
The guys got lots of hands-on time with Surface...I gave them a standard demo and they spent a lot of that time poking fun and trying to crack my cool demeanor, Ali spent some time talking about designing for Surface and being a gamer himself, the conversation eventually turned to all the cool things you could do on Surface from a gaming perspective (I'm thinking that's a future post here Ali). Then I showed them an exclusive peek at a simple game that was created to test Surface...if the video turns out you can see me kind of kicking Doc's butt, well maybe he actually won at the end though. Then they took a bunch of video and filmed throughout the halls, I'm not entirely sure what they're planning but it involves bathrooms, trash cans, digital clocks and other random stuff.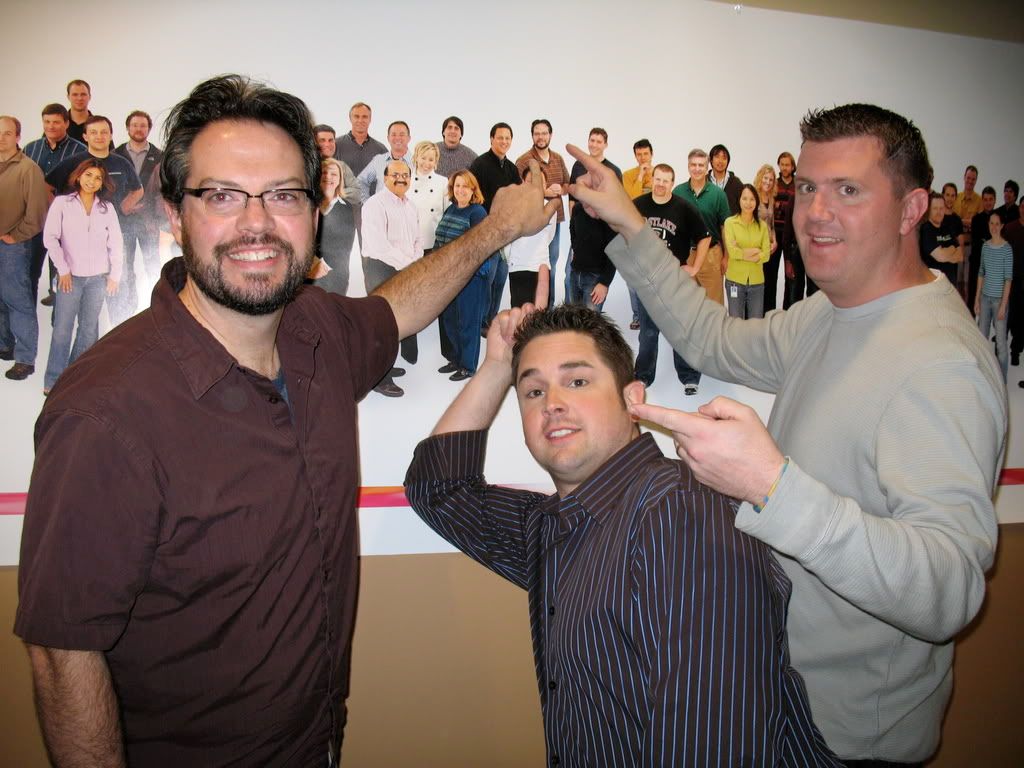 The day ended by introducing Lono and Doc to the entire team during our monthly all hands. Everyone was excited to meet the guys behind the infamous video.
And so now we sit back and wait...someone once said...the waiting is the hardest part. And it is...who knows what these guys are gonna do...
Thanks to Lono and Doc for your geniune interest in Surface and best of luck ahead with your site.
Cheers,
K Robert Warnick