First,
a few questions:
Do you enjoy helping developers write better code?

Do you enjoy solving complex problems that span multiple technologies?

Do you enjoy optimizing and improving code?

Are you passionate about software development?

Do you enjoy managing your own calendar?

Do you want to make the world a better place?
If the answer to these questions is "YES!", then please read-on.
We
are now actively recruiting for 3 Developer Premier Field Engineering positions at
Microsoft. 
You may ask yourself, what does a Dev PFE do?

We do both proactive and reactive work encompassing a variety of Microsoft's
developer products.  In general, the reactive work is where a customer is experiencing
a problem (usually in production) and they need someone onsite to help them resolve
the issue. The proactive work usually takes the form of knowledge transfer to companies
on how they can improve the maintainability of their code, how to debug problems and
how to optimize their applications.  I have also done a fair number of "proofs
of concept" for customers where they just don't know how to do something or they want
me to prove that it can be done.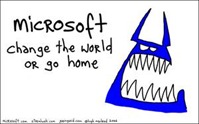 In
the past year, I've worked on projects using .NET
(1.1 – 4.0), Windows
Azure, Internet
Explorer, Bing, Bing
Translator, Windows
7 and many others. 
And the list really does go on.  You will work with our largest customers around
the world helping them write better code, solving complex issues, teaching them about
the latest technology and just making the world a better place.
If this sounds like a good fit for you, click
here to go to the Microsoft Careers site to apply.