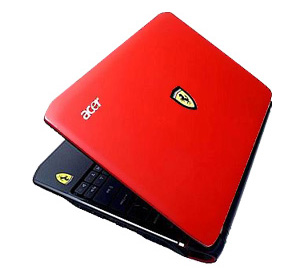 My latest purchase is an Acer Ferrari One netbook. This is a netbook like no other and the way netbooks should be! It is the same size as the current restricted Atom 11.6" screen netbooks, with 1366x768 res - but this one runs the AMD Athlon X2 L310 processor. Yes this is a dual core, 64-bit, workable screen res netbook baby!
With support for up to 4GB RAM and a 250GB HDD the graphics are provided by the ATiRadeon HD 3200. The Windows Experience Index says it all:
All this for just £399. It is pretty amazing especially when you compare it to the competition. The word on the street is that Intel won't allow powerful Atoms in the larger screen sized netbooks – protecting full processor laptop sales. This is why they are all Z520 1.2Ghz things – lacking puff.
But even when you look at the 'proper' laptops, the Acer Ferrari One is still an amazing buy.
Look at the Sony Vaio TT range. Typical Windows Experience Indices look like this:
Processor = 4.3
Memory (RAM) = 4.9
Graphics = 3.2
Gaming graphics = 4.9
Primary hard disk = 6.2
At best only 0.6 of an index better than the Ferrari One. Yet the TT range sells for over £1400 – 3.5 times the price of the Ferrari One, making the Ferrari One an awesome deal.
The Ferrari One was shipped with Windows 7 Home Premium. I upgraded this to Windows 7 Ultimate by using the Windows Anytime Upgrade feature – allowing you to purchase a new product key and download additional functionality over an internet connection. It took very little time at all, I didn't time it but it felt like 30mins.
I'm running Office 2010 (internal build), VS2008 Pro, VS2010 Ultimate beta 2, SQL Express 2008 and Expression Studio 3.
Unlike other Atom based netbooks, the Ferrari one doesn't stall when you have more than one application open. Making it awesome for travel and good enough for every day use (although to be perfect for dev I need a smidge more proc perf).
The Ferrari One has a Synaptics' multi-gesture touchpad. This appears to only support mouse style functionality (wheel zoom etc) via gestures. Windows 7 doesn't see it as a multi-touch device 🙁 Although I have seen mod'ed drivers on the web that apparently enable this functionality. Have to say, if a proper driver for multi-touch was provided the Ferrari One would be 'the best machine I have ever owned'. And that is some recommendation.
My Ferrari One model doesn't have the built in 3G support, or Bluetooth. But I have a 3G stick I use across all my machines as needed and I don't use BT.
I am keeping an eye out for 'Graphics Boosters' that use the ATI XGP port on the side of the Ferrari One. In theory at least, these devices extend the graphics capability by as much as x4 performance, and bring support for more than two simultaneous monitors and an HDMI out perfect compliment to the Dolby Home Theatre sound supported on the Ferrari One. It'd be pretty cool to use the Ferrari One in a multi-monitor work station with VS2010 (you can have different IDE windows open on different monitors).
The full spec of my Ferrari One:
Model: ZH6
Processor:  AMD Althon 64 X2 dual-core processor L310 (1.20Ghz, 1mb L2 Cache)
LCD: 11.6" HD Acer LED LCD (1366x768)
Graphics: Radeon HD 3200 up to 896mb memory (shared)
Memory: 2GB
Storage: 250GB HDD
Card reader: Multi-in-1
WLAN: Acer Nplify 802.11/b/g/ Draft –N
Web cam: Acer Crystal Eye webcam (0.3mega pixel)
Battery: 6-cell Li-on (appears that I'm getting 5hrs on balanced power management. Spare battery around £90).