All of us geeks know ways to tweak our PC in various ways, but there are just so many entry points that I wanted to do a post on them.  The most popular PC settings, designed for the average user, are of course available through the Control Panel.  This post is about settings beyond just the typical.

Disable/Remove Pesky Apps
Got programs on your PC that are annoying?  Getting pop up ads, programs that came pre-installed, or Internet apps that slow down your PC?  Of course a decent anti-virus program is important but it certainly does not prevent many pesky annoying programs from getting on your PC.  A few of the tools here can be used to quickly remove or disable those unwanted programs. 
Use Ad-Aware
Ad-aware is a free, very popular, award winning program that scans your computer for ad based software and removes them.  Much like an anti-virus program, but focused on advertisement pop-up and similar applications.
Use msconfig
The "System Configuration Utility" (aka msconfig) lets you easily disable programs that startup when your computer starts or services that run in the background.  Many pesky programs that run automatically on your PC can be easily 'turned off' with this tool.

System Configuration Utility (msconfig)
One of the least known configuration tools on a users' PC, this is also one of the most handy.  This can be really helpful to track down all those pesky startup items and system services that sneak their way onto your PC to drag down performance.  I've realized amazing startup performance improvements by disabling non-Microsoft startup items.  AutoRuns (mentioned below) is another free download which gives easy access to over a dozen categories of startup items.
A good practice here is to first disable everything under the "Startup" tab that you don't recognize, reboot, and try using your PC.  The same applies to the "Services" tab.  First filter out all the "Microsoft Services" (look for the checkbox) and disable all the services that you don't recognize.   After using your PC again for awhile, go back and only reactivate the programs or services you need.
Access Points
Gives Access To
System Boot Menu
Key .INI Files
Disabling Services
Disabling Startup Items

 
System Properties
A common gateway to a collection of system properties.  Makes me wonder why they couldn't get all these settings / config options in one place.
Access Points
Win-Break
Click "Start", right-click "My Computer", click "Properties"
Gives Access To
Basic system info (memory, processor)
Change computer name
Join/leave a domain
Device Manager (hardware)
Edit Environment Variables
Performance Visual Effects
allow Remote Desktop
System Restore disk space
Automatic Update settings
Computer Management Console
Part of the Microsoft Management Console system, the "Computer Management" console (compmgrmt.msc) gives an aggregated view of most of the MMC modules.  From the command prompt, run "dir /b/s %windir%\*.msc" to see all the modules available.
Access Points
Win-R, run "compmgmt.msc"
Click "Start", right-click "My Computer", click "Manage"
Gives Access To
Users & Groups
System Services
Indexing
SQL Server
Disk Management
Events & Logs
Drive Shares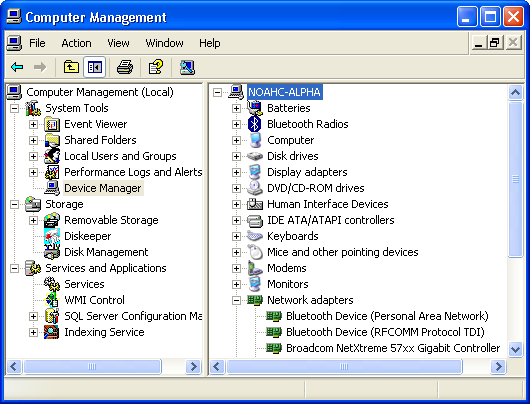 Delay Startup of Services on Vista
Windows Vista has a new startup type for services which simply delays their loading a little so that there are fewer services that startup all at once.  I've found by going through and setting some of the "Automatic" items to "Automatic (Delayed)" has improved startup time (the PC is more responsive earlier after a reboot).  Run "services.msc" to see the list.
Free up disk space with Disk Cleanup (cleanmgr)
Windows has had a handy tool for a few versions now that cleans up temp files, the recycle bin, little known log files, and more.  Run "cleanmgr".  I usually apply all the options (except compression of old files on XP) and even automate a cleanup periodically using clearmgr command line options and task scheduler.  For an even more thorough cleaning, check out the 3rd party freeware tool CCleaner (originally stood for Crap Cleaner).
AutoRuns, for everything startup
A free download, AutoRuns has 16 categories of programs, services, handlers, etc that startup automatically, most of them just after a reboot or user login.  There's a lot here, so be careful.  Best to make a backup first using the File / Save menu, then make changes.  If it's a bit much, stick with msconfig.exe and services.msc (above), they limit the items you can turn on/off to a reasonably safe subset.  But if you want the full meal deal, this is it.
Ad-Aware, remove pesky advertisement apps 

Ad-Aware is a free download (avoid the upgrade paths, stick to the free app) that has been around a long time now, is highly awarded, and easy to use.  It quickly scans your computer, much like an anti-virus program, but focuses on removing pesky ad pop-up types of programs that frequently sneak through web sites or other software that gets downloaded.  After using this app, use msconfig to disable other annoying programs that aren't necessarily pop-up advertisements.
Registry Hacks
Of course most system settings are stored in the registry.  There are 1,000s of tweaks, way too much to list, so I'll list some popular registry hacking links.
Windows Management Service (WMI)
WMI is a programic interface for modifying Windows settings.  It requires that the OS/app supports WMI programming, which of course Windows does.  It can be very powerful for creating apps or scripts that configure a PC quickly/easily.  You can also target WMI on other PCs.  I have a script that sets my favorite settings on all my PCs that I just run from my one main system.
To try it out, see this little example or the Scriptomatic utility.
Command Line
Can't forget the power of the command prompt and it's role in power hacking your PC! There are advanced prompts too, such as JPSoft's 4NT and Microsoft's PowerShell.   Windows comes with a ton of command line tools and config apps.  I've listed the WinXP command apps on my PC, and there are some good lists online that explain what command line tools are already on your system such as ss64.com's A-Z index and Microsoft TechNet Commands A-Z reference.  Best way to learn about these is to go through and run them with /? for help.
If you're using 4NT, use this command line to see all the Windows command apps on your PC:
dir /b/s %windir%\*.exe;*.com > ExeList.txt %+ del ExeTypes.txt %+ for %a in (@ExeList.txt) do (set tmpType=%@exetype[%a] %+ if %tmpType eq 1 .OR. %tmpType eq 7 echo %a) >> ExeTypes.txt %+ del ExeList.txt %+ ExeTypes.txt

Other Tools

References
Update (6/20/08): This post was updated to include info on delayed loading of services, the Disk Cleanup tool, and additional resources to command line tools.