Yup, I was a big BlogJet fan, until I started using Windows Live Writer a few weeks ago. Honestly, I was disappointed with the version cycle time of BlogJet, no new version in quite awhile. Windows Live Write feels like a real v1 product to me, but I'll admit it is a good one.
Download Windows Live Writer Beta
Some others using Windows Live Writer...
Screen Shot...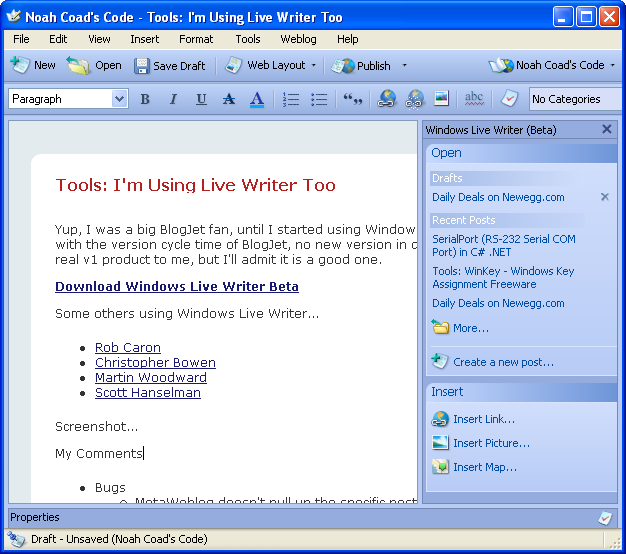 My Comments
I need to pass these on to the feature team...
Bugs

When inserting a .png image with a transparent background (a very common action), the background gets turned into a light blue color (and does not show up as transparent).
MetaWeblog doesn't pull up the specific post website after posting
When editing an existing post with existing images, then posting back, the images are lost
Inserting an image should show more picture formats (like .png, not just .jpg & .gif)
Scrolling wheel on the mouse does not function in "Web Layout"
When moving between "Web Layout" and "Code" view, the cursor location gets reset. This is very painful when there is a lot of HTML code and you use the web layout to find what HTML you need to tweak.
Shouldn't there be a scoll bar on the side of "Web Layout" for scrolling the post?
The context-menu key (that does the same as a right-click) appears in the topleft corner of the "Web Ladyout" view instead of at the cursor location.

Suggestions

"Show Post after Posting" should open a new browser window instead of recycling an existing window (or at least provide the option)
Allow saving/load of posts to files on the physical disk for writing posts offline.
Add "Add Hyperlink" to the context menu, as with MS Word
Startup time is slow/long! Please speed it up.
It should remember the last picture/image directory used and default back there across sessions (instead of resetting to the My Photos directory)
Have a "Formatting Styles" selection, like MS Word, to save/use font formatting
Just the "Header x" selection doesn't cut it because not all formatting styles are headers AND they don't translate well between aggregated views and the web

Advantages over BlogJet

Has an SDK for extensibility (a BIG + in my book)
Nicer UI, lots of little UI improvements, like the task bar with recent posts
Pulls the CSS of your blog
Picture effects
VERY easy to set up your blog account
Spell checker is in US English, vs UK English

Advantages of BlogJet

Forums for reporting bugs & suggestions
Very fast startup time
Allows saving drafts to local files