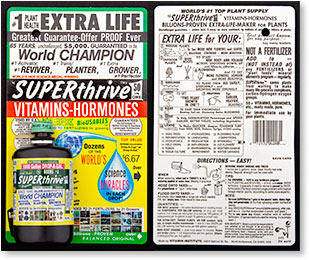 I was shopping at our local Ace Hardware store this afternoon with my wife, and I saw this package of SUPERthrive™ hanging in the aisle (image shows front and back of packaging). Having recently returned from our MIX07 conference in Las Vegas and hearing so much about user experience and good design, I purchased a bottle to illustrate what I'd consider very bad design. Granted, I'm not a designer by trade, and one could argue that I was compelled to buy a product I have no need for (score one for SUPERthrive), but even with those two points against me, I think you'll agree.
To start, what a mess! I'm not even sure what to read. It took me a few seconds to figure out the name of the product…certainly not a good thing. There's also no use of white space; to the contrary, the "design" seems to want to take up every available nook and cranny of the packaging. There's no sense of alignment, and even with my limited designer skills, I count at least eight different fonts (how many can you find?).
If you decide to actually read all of the text (click the image for a larger view), I can tell you that it'll take some time. You will be rewarded, though. Check out some of these claims:
Greatest Guarantee-Offer PROOF Ever (say what?)
65 YEARS, unchallenged, $5,000 GUARANTEED to be World CHAMPION (hmmm…)
Dozens OF THE WORLD'S science MIRACLES IN EACH DROP! (I assume this text goes together, and I'm intrigued about the miracles I might witness when using the product)
Unchallenged guarantees — proven best. 5 ways, on every continent, by millions of people on billions of plants. (can someone send us up the bomb?)
"Best product known, for any purpose." — say many leaders. (my favorite claim of all…makes me feel confident that I've purchased the right stuff)
TO START NEW ROOT AND FOLIAGE ACTION, SHOOTING DOWN, UP and filling-in, sidewise (sounds like the Wonkavater)
SUPERthrive saves plants from waiting to make many life-process complexes, carbon-hydrogen-oxygen groups. (gonna have to pull out my sixth grade science textbook to figure this one out)
NON-WARRANTY: Makers cannot be responsible for use, whether or not thought to be according to directions (which have seemed valuable to 100% of users following them.) (NON-warranty???)
Lifts the world (not sure how to test this claim)
Oh…it looks like they used the same designer to assemble their SUPERthrive web site. Don't miss the Questions & Answers page.
I haven't used SUPERthrive myself, so I can't make any claims about its effectiveness. For all I know, it could be a fantastic product. Please don't let my comments about the package design prevent you from giving it a try.
I'd love to hear some feedback! What do you think about the design?