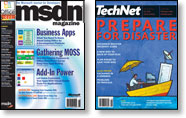 First, Stephen Toub reminds everyone that if you have a MSDN Premium subscription and you live in the United States, you can get a free subscription to MSDN Magazine by following a few simple steps: go to http://msdn.microsoft.com/subscriptions, sign-in to My MSDN Subscription, click on Subscriber Downloads and Product Keys, find MSDN Magazine Offer for MSDN Premium Subscribers about half-way down the page, and click to register. This is a great benefit, and I can't think of any good reason not to subscribe. And yes, I read it for the articles. 😉
Second, if you're a "qualified" IT professional who works with infrastructure, administration, deployment, patch management, and all that other fun stuff—and you live in the United States—you can sign-up for a free subscription to TechNet Magazine. Way back in my consulting days, I would have loved a magazine like this with such targeted information. I've thumbed through a few issues, and from what I've seen, this is also a worthwhile read.
Last, while on the topic of magazines, I feel compelled to mention IEEE Software. If you want to raise your game and increase your value as a software practitioner, this is an excellent resource. Since you can't find it on magazine stands, it's not as well known. Read their mission to see if it's for you.