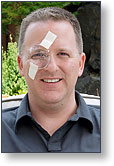 About two years ago, when I still lived in Michigan, my optometrist thought he noticed "something" in my right eye. After consulting with a second optometrist in the same office, they both concluded that I might have the start of a cataract. It was still early enough in its development that they weren't 100% sure, so they scheduled a follow-up visit two weeks later when they'd be able to dilate my eyes for a better look. Sure enough...after dilation, they identified the beginnings of a cataract in my right eye.
They weren't expecting to find something like this, because cataracts don't normally occur in younger people. Also, when cataracts do form, they typically affect both eyes, but my left eye was "crystal clear" as they described it. If you read about cataracts, you'll learn that among the possible causes is eye trauma. Bingo! When I was in grade school, some kids pinned me down at the bus stop and threw what could best be described as an "ice ball" (snowball) directly at my face. It hit my eye and created a small tear. Because I was so young, I don't remember exactly what tore, but I do remember that my mother had to put eye drops in my eye for a number of weeks while it healed. It's likely that this is the cause.
Once a cataract starts, there's no known way to slow or stop its progress. The proteins in the lens of your eye begin to clump together, and as light tries to go through the—now cloudy—lens, it scatters. The result is that everything starts to get cloudier and fuzzier. Bright light makes things worse. If left to run its course, the lens will solidify and cause total blindness. For the first year or so, I would visit the optometrist to have the prescription for my right eye tweaked. But, as predicted, it eventually became so bad that I had to have an intraocular lens implant.
The procedure is extremely common, and the results are typically quite stunning. Although there are three basic implant types, I chose the ReZoom multifocal lens (the decision as to which lens makes the most sense depends on your lifestyle and what you do with your eyes). I had the surgery performed two weeks ago by Dr. Michael Gilbert of the Northwest Vision Institute, and I couldn't be happier with the results.
Basically, the procedure involves numbing your eye, creating a small incision, using ultrasound to break-up the cataract/lens, sucking out the pieces, inserting a folded intraocular lens, unfolding it, and positioning it appropriately. For a bit more context, this video does a good job explaining the general procedure. You are required to be awake the whole time. In my case, Dr. Gilbert asked me to focus on two lights, and he described how those lights would change (move, get brighter, darker, etc.) and when I'd feel pressure on my eye. Although Dr. Gilbert hasn't had this procedure himself, he had an uncanny ability to explain exactly what was going on. Consider me very impressed.
Yes, I'll agree that the surgery sounds quite freaky...especially since you're awake. But, as promised, I never experienced any pain whatsoever. If you don't count all of the pre- and post-work they do to get you ready for surgery, the procedure only takes 15-30 minutes, and it's performed on an outpatient basis.
Following surgery, I had to wear a clear eye "dome" for the remainder of the day and when I slept for the first week (photo). This keeps you from accidentally rubbing or scratching your eye. I also had to keep water out of my eye for two weeks (no, I won't post a photo of me in a shower cap, so don't ask). I couldn't lift more than 25 pounds, and I'm having to apply a set of eye drops four times each day for four weeks. All-in-all, it's an extremely fair tradeoff for the amazing vision I now have.
If you've followed along this far, you'll know it's been about two weeks since my surgery. People ask: "so, what do you see?" First, as it was described to me, your vision will continue to change as your new vision system is integrated with your brain. Although I had great vision almost immediately after the procedure, it's continued to improve. Remember that my right eye was almost at the point of doing nothing, so it wouldn't surprise me if it has to learn how to "see" again.
With the type of lens I had implanted, I do see halos (no, not that kind of Halo) at night. I knew about this ahead of time, because I had watched an excellent video at the Northwest Vision Institute before I made my decision. I expect them to diminish over time, but frankly, I'm quite used to them now, and they don't seem to negatively impact anything I do. Compared to what I could (or rather, couldn't) see with my right eye before all of this, the halos don't even matter.
I'm now walking around with no glass in the right side of my glasses. I thought I'd look extra geeky like this, but nobody even notices...not even me. Interestingly, the color in my right eye seems just a slight bit more vibrant. I haven't asked Dr. Gilbert why this is yet (perhaps UV filtering in the lens?), but I wish my left eye had similar perception! I can also resolve much smaller text at greater distances as compared to my left eye. So, regardless of whether you consider me Borg or bionic, I like what I see!
Before I close this long post, I have to note that Steve Marx, our recently-hired Atlas technical evangelist, sent me a great follow-up e-mail that he's blogged about called SwansonVision. You can create your own SwansonVision text with his sample app and confuse your friends. I got a good laugh out of that one. 🙂
If you're considering this procedure, I'd highly recommend Dr. Gilbert and his friendly staff. And, if you have any questions, feel free to contact me directly.