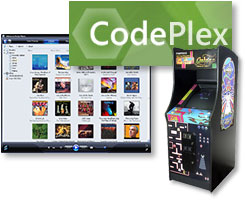 No, these three items don't have anything to do with each other. And I hate to admit that I'm using a single blog post to call your attention to three distinctly different things. I feel like I'm breaking some unwritten blogger rule like: thou shalt not be lazy and roll-up multiple blog posts into one. I'm sure I'll get over it. On to the good stuff...
The first announcement is that we released a downloadable beta version of Windows Media Player 11 this morning. I really like that we've simplified the interface, and I was encouraged to try this: "...optimized to handle massive libraries of digital music—literally millions of tracks—so you can scroll, flip, and browse your way through your entire collection at high speed without skipping a beat." I've lost count, but my wife and I have built a collection of somewhere around 2,000+ CDs. Most solutions don't handle that many songs very well...especially over a network connection. Well, so far, Windows Media Player 11 has me pretty excited. I can quickly scroll through the album view, and it keeps up with me. Awesome! I also love the way the new search feature works, and it's quick. And although I haven't dug in to the audio fingerprinting feature yet, I'm pretty excited about the concept: "...now includes audio waveform matching that builds on existing media information features and precisely pinpoints the exact album information for your tracks." Check it out.
Second, we've released a beta version of our CodePlex site. Their summary describes it best: "CodePlex is an online software development environment for open and shared source developers to create, host and manage projects throughout the project lifecycle. It has been written from the ground up in C# using .NET 2.0 technology with Team Foundation Server on the back end." It's good to see the power of Team Foundation Server put to such a great use. The best part is that CodePlex is completely free. You'll also find an "Atlas" control toolkit, a command-line interface for Team Foundation Server, and IronPython. More information on Microsoft Watch.
Last, but certainly not least, you can win a real, full-size Namco Ms. Pac-Man/Galaga arcade machine! Who wouldn't want that!? Two of the best arcade games ever made, all in a single cabinet (actually, I hear that it also includes the original Pac-Man if you press up, up, up, down, down, down, left, right, left, right, left, start from the select screen). Visit http://www.upgradeyourgame.com for details. Yes, I always check the fine print. One of these days we'll forget to include the "Employees of Microsoft Corp...are not eligible to enter or win" verbiage. At least I can dream. In the meantime, I'll just keep playing with my mini Pac-Man and Galaga units. 🙁