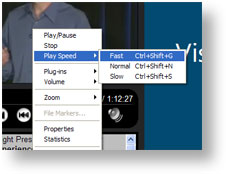 If you were unable to attend the Microsoft Professional Developers Conference 2005 (PDC05) in Los Angeles this year, never fear; 209 breakout sessions, panels, and symposia are now available online. Each session includes a video of the presenter, a navigable index of the content, the PowerPoint presentation itself, and video of any demos. We'll be hosting this content for free, for anyone, for six full months.
And, due to popular blogger and e-mail demand, you can also download each session individually for offline viewing. Just click the Download Presentation link that appears beneath the session information (full session zip files average around 150MB each).
All of the sessions include downloadable PowerPoint presentations, and many of them also include materials (code samples, Visual Studio solutions, papers, etc.).
If the thought of spending 46 full days downloading almost 27GB of content via a 56K dial-up connection doesn't sound appealing, you can order the 4 dual-layer 8.5GB DVD set here (attendee price: $199, non-attendee price: $499). As a bonus, the DVD set also includes nearly 4GB of Channel 9 video content that was produced for PDC05. All attendees will automatically receive the DVD set, and it is expected to begin shipping in early November.
In case you missed my earlier post, you can right-click on the speaker video, choose Play Speed, then Fast to save yourself some time by watching the presentation at a higher speed. Since there's over 250 hours of content, this can be a big time-saver.
Enjoy!