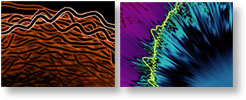 I'm always looking for great Media Player visualizations, and I ran across this one just before my trip to PDC05. If you've ever spent more time than you'd like to admit watching your hard drive defrag (I know I have), I think you'll find this even more mesmerizing. A company called SoundSpectrum produces both WhiteCap and G-Force; both are available as free downloads. Check out some of the screenshots. I originally thought that it leveraged the power of the GPU for these amazing visuals, but after reading their FAQ, I see that it has no special 3D hardware requirements.
I liked it so much that I bought the upgraded Platinum edition for $30 (which—among other things—adds a screen saver capability). You'd be surprised how many people have asked me about the screen saver on my laptop. I've come back to my machine and found people staring at the display. Now that I think about it, perhaps I can get SoundSpectrum to add a subliminal suggestion feature to their visuals. Imagine the possibilities. 🙂
I'd love to see a version of their product that takes advantage of Windows Presentation Foundation. I have to believe that the hardware acceleration alone would allow them to do some pretty stunning things. What about a feature that allows me to include my own custom XAML within their display? Sounds like a pretty wild possibility.
What other cool visualizations and screen savers are you guys aware of?