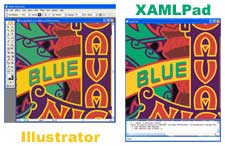 I've updated my Adobe Illustrator to WPF ("Avalon")/XAML Export Plug-In to be compatible with the recently-released WinFX September 2005 CTP. The fill rule syntax has been modified to work with the new format, and clipping paths are now exported using the abbreviated path syntax which makes for slightly smaller XAML files. Otherwise, I haven't made any other major changes.
There are some improvements that I'd like to make to the plug-in, and now that the Microsoft Professional Developers Conference 2005 is over, I may actually have some time. If you have any comments, feedback, or suggestions, please send me e-mail.
As before, if you create something cool with the plug-in that others would be interested in, please take a moment to upload it to the Channel 9 Sandbox.
Enjoy!