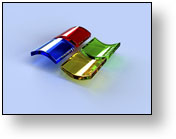 Here's a thumbnail from some very nice wallpaper images from DivineError. He has a 1600 x 1200 version, a 1280 x 800 widescreen version and a non-glass version. He's created a lot of other great images too, if you spend the time to look through his collection.
Speaking of desktops and wallpaper, if you want to completely amaze your associates and suck all the power out of your laptop or desktop computer, try this very cool 3D animated desktop called Desktop Dreamscapes. It's a 3D animated desktop...not screen saver, and notice that it's been around since 2002. Amazing stuff.
And before I finish, let me plug my own Macro Wallpaper and Macro Wallpaper 2 posts.