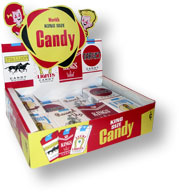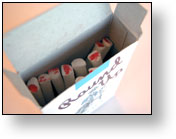 Anyone else love candy cigarettes...err...I'm sorry...just plain Candy (they don't like to use the term cigarette next to the word candy anymore). A former Microsoftie and friend named Bill (who now works for Sagestone Consulting) was thoughtful enough to bring me a full box from a recent trip he took. I'm sure I was beaming when he walked in the door with a display box in his hands...how embarrassing.
I've received a lot of grief from people over the years about eating these things. Comments seem to center around chalk. As in, "yuck...they taste like chalk!" To which I routinely reply, "how do you know what chalk tastes like?" That argument never works, though, and I've found it difficult to get people to try them.
However, either times have changed, my persuasiveness has improved, or the people I now work around are just plain cool. More people than I thought remember these fondly, and almost everyone wants to eat a pack. I remind them to be careful of the lit end, clearly marked by the red food col...err...ember at one tip. "By the way," asked Dr. Steppe earlier today, "have you ever wondered why we chew them from the un-lit end?" Good question.
If you haven't yet kicked the habit, you can save up all your money and buy your own box of 24 for $4.49. Update: Andy points out a $0.50 cheaper source.
Anyone else remember these? How about other candies that you loved as a kid? Any of you have special "coding candy" to help you write VB.NET and C# code late into the early morning hours?