Over the past four years or so, I've had MCROSFT as my personal license plate. Does that illustrate how much I love working for such an awesome company? Or does it just confirm my über-geek status? Or both? Anyway, living in Slashdot territory (Holland, Michigan), I've always wondered how long it would be before I came out of a store to find a Linux sticker on my license plate. And quite frankly, over time, I had found myself becoming more and more disappointed that someone hadn't taken the initiative to put me in my place. Well, while pulling my wife's car out of the garage this afternoon, I saw the following on the back of my car: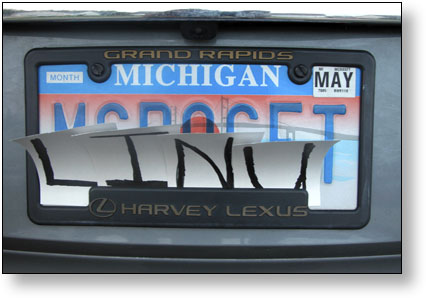 This must have happened last night while my wife and I were watching Garden State. Unfortunately, I hadn't noticed it until today, and in the meantime, the 3x5 card with the "X" on it must have fallen off (pretty impressive for a 20-minute drive on the highway). Regardless, my diminishing faith in Linux advocacy has been completely restored. Touché to the perpetrator(s)!
I've had other interesting reactions to my license plate:
A Compuware van passed me one day, the driver rolled down the window, leaned out, and gave me a big thumbs-up and a smile.
Another car passed me, the window rolled down, and a hand extended holding a big red Novell manual that the driver proceeded to shake in my general direction before speeding off. My guess is that the manual was his only handy signaling mechanism. It made me smile.
Yet another time, I engaged my right turn signal, but before I could cross into the right lane, a Geo Tracker (that was at least two car lengths behind me) quickly sped up, passed me, then slowed down. As I merged into the right lane, I noticed a Tux sticker in the rear window. Cute.
Quite often, when I'm at a stop light looking in my rear-view mirror, one of the people in the car behind me smiles, gestures to his or her fellow passenger, then points at the back of my car. It usually takes me a second to realize what they're pointing at...what...is my brake light out? A nasty dent? Oh yeah...the license plate. 🙂
And last, what are the chances of parking right next to the person in Michigan with the LINUX license plate? Turns out that Eric Maino, who is now a Microsoft MVP, used to be a huge Linux fan, and he was attending one of our West Michigan .NET User Group meetings. Priceless.