I'm an avid reader of scientific and technical books and magazines, so I have to make an occasional effort to read something non-technical. Dean Takahashi's Opening the Xbox is categorized under "business," and although it discusses the genesis of Microsoft's gaming console, it is more about the people and effort involved and less about the technical hurdles that the teams faced.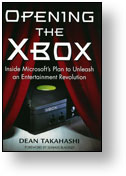 The book is a behind-the-scenes look at what it took to get the Xbox from concept to production. Takahashi has talked with most of the key individuals from Microsoft, NVIDIA, Intel, AMD, and many of the other players. He follows Seamus Blackley, the person behind the failed Trespasser game (I had hoped for so much more when I purchased my copy years ago) and other core members who championed their idea within Microsoft until it was recognized as an emerging business by Bill and Steve. As you'd expect, Sony and Nintendo are discussed at-length, and the challenge of exciting game developers about a new console is interesting. The book discusses how the WebTV group wanted to be involved and how NVIDIA, ATI, and a company called GigaPixel fought for the graphics chip. It relates the concern over the cost of producing each Xbox unit, especially because Microsoft wanted to differentiate itself from the competition by including a hard drive in the system.
Takahashi is a good journalist, and he's easy to read. I come from a big gaming background, and I was interested in learning about how the Xbox came to be. If you're curious about behind-the-scenes politics at Microsoft, and you'd like to know what it takes to get something like this off the ground, I think you'll enjoy this book. It's a good distraction from your technical and scientific reading schedule.