An unidentified creature was sighted in Grand Rapids, Michigan last week at the offices of Microsoft Gold Certified Partner, Sagestone Consulting, Inc. The creature, unofficially logged as a Microsoft employee, was witnessed by dozens of people during its brief visit. Lee VanWagner, Vice President of Product Development for the Robertson Research Institute, said that he and several other RRI employees had seen an average height, slightly intelligent, but otherwise overconfident pale-colored male lurking in the corner of a meeting room.
"It startled all of us. We were in the middle of a presentation when we noticed it out of the corner of our eyes. It had a very distinct grunt and seemed to be mumbling something about 'web services,'" recalled VanWagner. Fellow attendee, Rob Cecil, noted that he had seen the creature for only a few seconds before it stood up and bolted from the room: "I'm just glad that it didn't turn violent. I think it was overwhelmed by the lack of technical content during the meeting and looked for the quickest means of escape." Fortunately, Dr. Mark Bates of RRI was able to snap a photo before it scurried off.
Police and other officials say that they have no plans to search for the creature. A department spokesman reported that there were no unexplained blips on local radar screens nor abnormal electrical activity in the area. He said that the department would investigate, but he knew only what had been reported. He said he was curious about a witness who described the creature as looking like a Microsoft employee. However, on further observation by industry experts, it was noted that the creature was wearing a suit and tie, a fact that all but eliminates this remote possibility.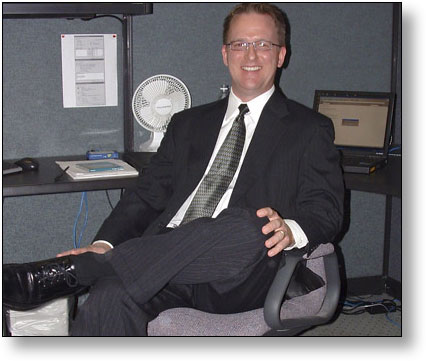 If anyone has any information about the identity or whereabouts of the creature in the photograph, please contact your local authorities. If approached, use technical terms to calm it down and begin talking about .NET or C#.