Each year in Australia, we run an MSP "Bootcamp", where we bring together new and existing MSPs from all over the country for a 2-day planning session at the start of the academic year. The idea behind being a Microsoft Student Partner is to help build a stronger technical community on campus. The idea, then, behind the MSP Bootcamp, is to workshop activities that each MSP can undertake throughout the year to help them build that community.
2008 marks the first year where we have seen almost the entire country properly represented by MSPs, with the addition of Western Australian and South Australian MSPs. If you're interested to see if there's a Microsoft Student Partner in your university, check out http://student-partners.com/Msp/Search/SearchMspProfiles.aspx. They've got a host of activities planned, so if you're interested in learning more about what they've got planned for your campus, drop them a line.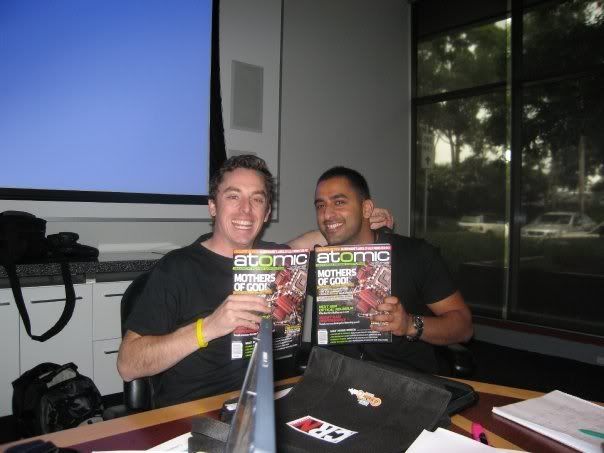 MSOZACADEMIC's own Karo E (R) and Phil Vella (L) from Atomic Magazine with some premium product placement.




EDIT: 26/2 - Karo and Phil are actually much better looking than this photo portrays. I can assure you that niether gentleman has one eye bigger than the other as it appears in this photo, nor does Phil have Mr. Ed style teeth.
It was great to meet such a fantastic group of enthusiastic people, and I honestlly think we're going to do a great job at building community on campus in the coming months. My personal highlights of the Bootcamp include:
1 - New Perth MSP Luke Kim's demo of how easy it is to build a kiddie-safe web browser using Visual Studio (takes all of about 5 minutes).
2 - The first annual MSP of the Year award (henceforth 'SPOTY') went to Ed Hooper for his efforts at University of Melbourne. Ed scored an Xbox360 for his efforts. Second place went to QUT MSP Andrew Tan for joining the program mid way through last year and completely surpassing any expectations I had of him. Andrew has already won an Xbox360 this year, so he received a free ticket to the Heroes Happen 2008 event as his prize. Third place went to Sean Costain, who similarly came in half way through the year, and took it upon himself to run a number of demos and events and enter the XNA Games Development category of Imagine Cup.
3 - Meeting some of the new MSPs - it's always good to meet members of the student population, and we've got some amazing talent and personality in the 2008 MSP group.



Ed Hooper is SPOTY for 2007.
If you are interested in learning more about Microsoft Student Partners, or wish to submit an application, check out http://student-partners.com for more.
- Nick