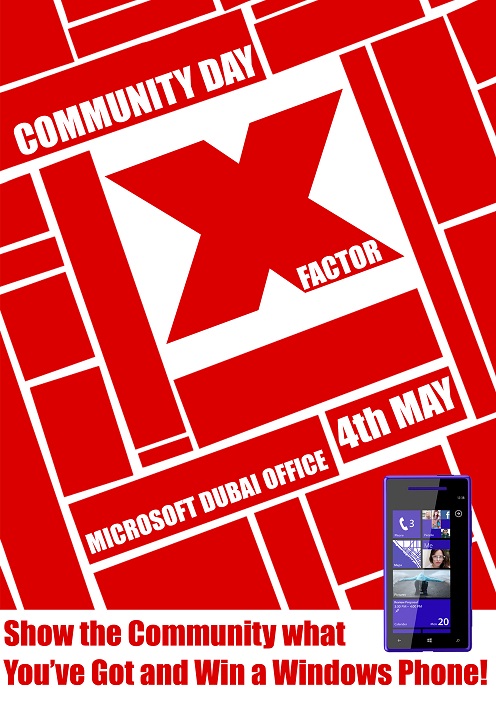 Show the Community What You've Got and Win a Windows Phone!
Come join us for the first Community Day organized by Microsoft DPE where you will have the opportunity to meet developers, IT Professionals and other amazing community members and showcase your talents as a community leader.
We invite you to showcase your talents for 15 minutes delivering a unique demonstration or session on Microsoft technologies! From use of .NET to control your house appliances or your own project to check the weather with your voice, to your custom animations using Expression Blend or even a connected Virtual Machines environment, we are excited to see who has that X Factor!
But not only that! We also have some sessions prepared to help you better understand what Microsoft has for communities and how you can grow as community member and lead a User Group of your own.
Community X-Factor participants will choose the final winner, shortlisted by our panel of judges.  Good luck and look forward to seeing you there!
Here is a brief agenda for your reference:
Start time
Finish time
Session Name
9:45 - 10:15
Do you want to become a Microsoft Most Valuable Professional?
10:15 - 10:45
Learning Programs and Resources for communities
10:45 - 11:15
Do you want to create your own company? Start Up and Grow!
11:30 - 11:45
Break
11:45 - 12:00
The X Factor. First Session
12:00 - 12:15
The X Factor. Second Session
12:15 - 12:30
The X Factor. Third Session
12:30 - 12:40
DELIBERATION TIME
12:40 - 12:55
The X Factor. Fourth Session
12:55 - 13:10
The X Factor. Fifth Session
13:10 - 13:25
The X Factor. Sixth Session
13:25 - 13:35
DELIBERATION TIME
13:35 - 13:50
WINNER ANNOUNCEMENT
13:50 - 14:00
Prizes and Closing
14:00 - 15:00
LUNCH AND NETWORKING
If you want to present or just attend and watch, make sure you register here:http://communitydayxfactor.eventbrite.com/
Interesting in presenting?  Please email eduob@microsoft.com with your session idea, name and contact details.
We're looking forward to seeing you this weekend!