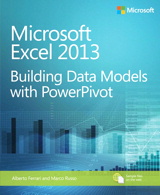 List price: $29.99
Sale price: $14.99
You save 50%
This offer expires Sunday, June 28 at 7:00 AM GMT.
Your guide to quickly turn data into results. Transform your skills, data, and business--and create your own BI solutions using software you already know and love: Microsoft Excel. Two business intelligence (BI) experts take you inside PowerPivot functionality for Excel 2013, with a focus on real world scenarios, problem-solving, and data modeling. Learn more.
Terms & conditions
Each week, on Sunday at 12:01 AM PST / 7:01 AM GMT, a new eBook is offered for a one-week period. Check back each week for a new deal.
The products offered as our eBook Deal of the Week are not eligible for any other discounts. The Deal of the Week promotional price cannot be combined with other offers.