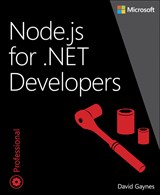 List price: $15.99  
Sale price: $7.99
You save 50%
This offer expires Sunday, June 14 at 7:00 AM GMT.
Build scalable, high-traffic websites and web applications with Node.jsFor many .NET programmers, Node.js represents a new way to build high-traffic websites and applications. Now there's a practical, concise introduction to Node.js specifically for Microsoft developers. David Gaynes guides you through the entire Node.js development process. Learn more.
Terms & conditions
Each week, on Sunday at 12:01 AM PST / 7:01 AM GMT, a new eBook is offered for a one-week period. Check back each week for a new deal.
The products offered as our eBook Deal of the Week are not eligible for any other discounts. The Deal of the Week promotional price cannot be combined with other offers.