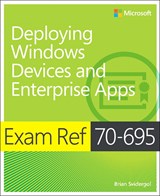 List price: $31.99  
Sale price: $15.99
You save 50%
This offer expires Sunday, June 7 at 7:00 AM GMT.
Prepare for Microsoft certification Exam 70-695 and demonstrate your skills in deploying Windows apps and devices in the enterprise. Prepare for Microsoft Exam 70-695 - and demonstrate your real-world mastery of deploying Windows devices and enterprise apps. The exam is a required exam for the new MCSE certification in Enterprise App and Device Deployment and Management. Learn more.
Terms & conditions
Each week, on Sunday at 12:01 AM PST / 7:01 AM GMT, a new eBook is offered for a one-week period. Check back each week for a new deal.
The products offered as our eBook Deal of the Week are not eligible for any other discounts. The Deal of the Week promotional price cannot be combined with other offers.