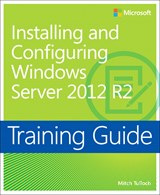 List price: $47.99  
Sale price: $23.99
You save 50%
This offer expires Sunday, May 31 at 7:00 AM GMT.
Fully updated for Windows Server 2012 R2! Designed to help enterprise administrators develop real-world, job-role-specific skills - this Training Guide focuses on deploying and managing core infrastructure services in Windows Server 2012 R2. Build hands-on expertise through a series of lessons, exercises, and suggested practices - and help maximize your performance on the job. Learn more.
Terms & conditions
Each week, on Sunday at 12:01 AM PST / 7:01 AM GMT, a new eBook is offered for a one-week period. Check back each week for a new deal.
The products offered as our eBook Deal of the Week are not eligible for any other discounts. The Deal of the Week promotional price cannot be combined with other offers.