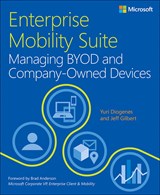 List price: $19.99  
Sale price: $9.99
You save 50%
This offer expires Sunday, May 24 at 7:00 AM GMT.
Enterprise Mobility Suite - Managing BYOD and Company-Owned Devices is the first authoritative, scenario-based guide to enabling your mobile workforce. Two expert Microsoft authors introduce Microsoft's breakthrough Enterprise Mobility Suite, and demonstrate how to use it as your single solution for mobile device management of all leading smartphone and tablet platforms: Windows, iOS, and Android. Learn more.
Terms & conditions
Each week, on Sunday at 12:01 AM PST / 7:01 AM GMT, a new eBook is offered for a one-week period. Check back each week for a new deal.
The products offered as our eBook Deal of the Week are not eligible for any other discounts. The Deal of the Week promotional price cannot be combined with other offers.