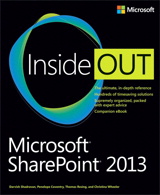 NOTE: This deal has expired, but we have a new ebook each week. Check this blog or www.MicrosoftPressStore.com for the current deal.
Conquer SharePoint 2013—from the inside out! You're beyond the basics, so dive right into SharePoint 2013—and really put your business collaboration platform to work! This supremely organized reference packs hundreds of timesaving solutions, troubleshooting techniques, and workarounds. It's all muscle and no fluff. Discover how the experts facilitate information sharing across the enterprise—and challenge yourself to new levels of mastery. Learn more
Terms & conditions
Each week, on Sunday at 12:01 AM PST / 7:01 AM GMT, a new eBook is offered for a one-week period. Check back each week for a new deal.
The products offered as our eBook Deal of the Week are not eligible for any other discounts. The Deal of the Week promotional price cannot be combined with other offers.