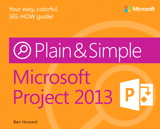 List price: $19.99
Sale price: $9.99
You save 50%
Get the full-color, visual guide that makes learning Microsoft Project 2013 plain and simple! Follow the book's easy steps and screenshots and clear, concise language to learn the simplest ways to effectively manage all your projects. Learn more.
Terms & conditions
Each week, on Sunday at 12:01 AM PST / 7:01 AM GMT, a new eBook is offered for a one-week period. Check back each week for a new deal.
The products offered as our eBook Deal of the Week are not eligible for any other discounts. The Deal of the Week promotional price cannot be combined with other offers.