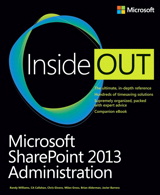 List price: $39.99
Sale price: $19.99
You save 50%
Conquer Microsoft SharePoint 2013 administration--from the inside out! Dive into SharePoint 2013 administration--and really put your systems expertise to work! This supremely organized reference packs hundreds of timesaving solutions, troubleshooting tips, and workarounds. Discover how the experts deploy, configure, and manage SharePoint--and challenge yourself to new levels of mastery. Learn more.
Terms & conditions
Each week, on Sunday at 12:01 AM PST / 7:01 AM GMT, a new eBook is offered for a one-week period. Check back each week for a new deal.
The products offered as our eBook Deal of the Week are not eligible for any other discounts. The Deal of the Week promotional price cannot be combined with other offers.