Please enjoy this guest post by long-time Microsoft Press author Orin Thomas:
Orin here. Hello, all. Over the next week or two I'll be doing a couple of blog posts from TechEd Australia and TechEd New Zealand. For those that don't know me, I've worked as an author on a large number of IT Pro training kits, including ones for the Windows Vista, Windows Server 2008, Windows 7 and Exchange exams. I'm presenting two sessions at each TechEd, the details of which are below. I'll also be hanging about at the Microsoft Press booth on Certification Night (Wed 09th Sep) at #auteched if you want something signed. (And you can also find me on Twitter: @orinthomas)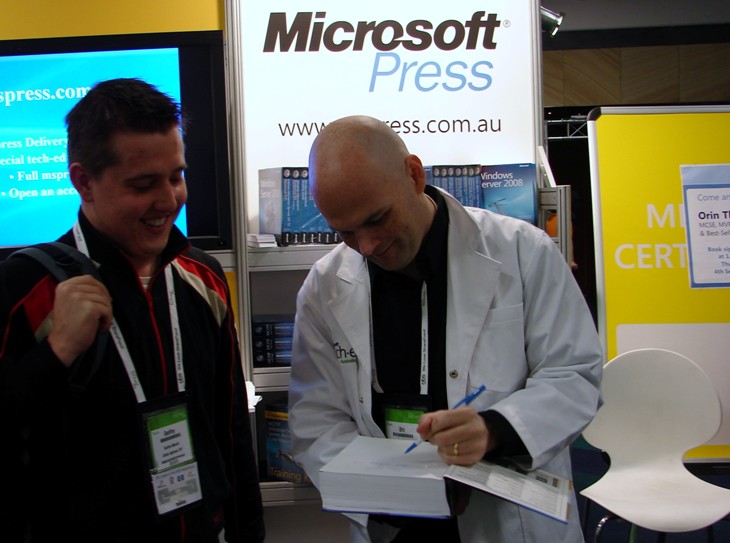 SEC307 Securing Portable Computers
TechED.AU | Thu 10th September | 8:15-9:30 | Arena 2
TechED.NZ | Tue 15th September | 9:00-10:15 | Marlborough Room
As a TechEd attendee it's pretty likely that you have your own portable computer (if you are going to TechEd in Australia, you get your own Windows 7 Netbook as part of your ticket!). Do you know how what steps you need to take to secure it and the data it hosts? Even if you've only had a notebook computer a couple of days it is likely that it already contains private data. Knowing how to lock down a portable computer so that private data cannot be recovered is a critical task for today's IT Pro. This is because no matter how much they love them, people lose portable computers. A recent study of 28 SMEs found that 138 laptop computers had been lost in the previous 18 months. Each lost laptop cost their organization an average of $50,000 USD. These costs were substantially reduced for organizations that had a comprehensive laptop data protection and encryption strategy in place. In this session you'll learn about the technologies such as AD RMS, BitLocker, and EFS that you can use to secure laptop computers. You won't be able to stop people in the companies that you work for losing their laptops, but you will be able to minimize the cost to your company of that lost computer.
SEC311 Systems Administrator Oversight: How to secure your organization against a rogue systems administrator
TechED.NZ | Fri 11th September | 9:45-11:00 | Arena 1A
TechED.NZ | Mon 14th September | 12:05-13:20 | Marlborough Room
Systems administrators are the most powerful people on the network. This power presents a security risk because organizations need to put a great deal of faith in the honesty and integrity of their systems administrators. Studies have shown that a small but significant percentage of people in an organization don't have the organization's best interests at heart. Every now and then we hear about administrators that have been fired who have taken one last big swipe at their company, causing hundreds of thousands, if not millions of dollars damage to the IT infrastructure that they once protected. This talk will look at how you can use administrator role separation in your organization to partition privileges across accounts rather than having hero accounts that have the permission to do anything and everything.