The wait is over! This morning at the 2009 Professional Developers Conference (PDC), Microsoft formally announced the public availability of the Microsoft Office 2010 Beta, which includes Microsoft OneNote 2010.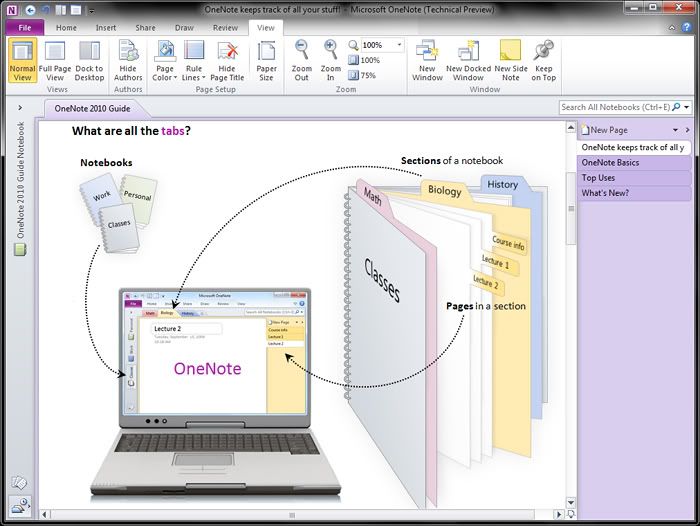 Try out Office 2010 for free!
Visit http://www.microsoft.com/2010 to download the Microsoft Office 2010 Professional Plus Beta.
This is a fully-functioning version of Office 2010 that includes pre-release versions of the following programs:


Access 2010


Excel 2010


InfoPath 2010


OneNote 2010


Outlook 2010


PowerPoint 2010


Publisher 2010


Word 2010
Please make sure that your computer is able to run the Office 2010 Beta. Click here to view the system requirements.

Some important reminders about Beta software in general
"Beta" is a nickname for software which has passed a significant internal stage of software development and is being made available to a larger community of users for testing purposes. A Beta release allows real-world users to try out the software on a variety of computer systems and configuration environments and provide feedback about any issues or malfunctions that they may find in the software.
The Beta release cycle is also a time when you can give us early feedback about what you like about the new software, what your favorite new features are, and so on. A lot of hard work has gone into a product before it reaches a Beta release and positive feedback is just as much appreciated.
If you haven't participated in a public Beta before, please understand the risks that are commonly assumed of and associated with Beta-level software releases. Because it is still undergoing testing, Beta software can be unstable and could potentially cause crashes or data loss. If you cannot install the Office 2010 Beta on a separate computer for safe testing purposes and you still want to test-drive the software on your main PC, please be sure to completely back up your computer and all files that you care about. If you're using Windows 7, click here to learn how to back up your hard drive.
We're very excited about this release and are proud of the hard work that has gone into these products, but final testing has only just begun. As with all Beta products, please understand that the Office 2010 Beta is not covered by Microsoft Technical Support and provides only limited (if any) finalized documentation. You should not rely on Beta software to do mission-critical work.

What you should know about the OneNote 2010 Beta
To enable many of its new features, OneNote 2010 uses a newer file format for saving notebooks than previous versions. However, we have preserved the old OneNote 2007 file format so that you can keep using notebooks saved in the older format and share them with people who don't yet have OneNote 2010 Beta.
When you create any new notebooks with OneNote 2010, they will be automatically saved in the new OneNote 2010 file format. This format is required for many of the new OneNote 2010 features to work — including math equations, linked note-taking, multi-level subpages, versioning, and the Recycle Bin. Using the OneNote 2010 notebook format also lets you share your notebooks on the Web, so they can be viewed and edited in a Web browser (please note that this feature is not yet enabled in the OneNote 2010 Beta).
If you are running the OneNote 2010 Beta on your main PC on which you store your real OneNote 2007 notebooks, upgrading to the new format is not recommended unless you have reliable backups of these notebooks. Please see my previous warnings about Beta software in this blog post. However, if you're using OneNote 2010 Beta on a test computer, or you're working with dummy notebooks, do feel free to try out the notebook creation and conversion features!
To check which file format a notebook is saved in, do either of the following in OneNote 2010 Beta:


Open a notebook, and then look at the title bar of the OneNote application window. If [Compatibility Mode] is shown next to the notebook name, then the notebook is saved in the older OneNote 2007 format.



Right-click a notebook's icon on the Navigation bar (by default, on the far left of the canvas), and then click Properties. In the Notebook Properties dialog box, note the Default Format to see what format the notebook is saved in.

If you have additional questions about the Office 2010 Beta and how it can co-exist with your existing installation of Office 2007 programs, please be sure to check out the Frequently Asked Questions on our Web site (carefully read through the links in the section titled "Microsoft Office 2010 Beta"). If your question isn't answered in the FAQ, please post a comment and I'll do my best to research the answer for you.

Join the conversation!
Have you tried the Office 2010 Beta? How do you like the new version of OneNote? As always, please feel free to post your comments here. I'd love to hear your first impressions about OneNote 2010 and learn about the features you have questions about.
Also, be sure to check out our official OneNote fan page on Facebook, where you can connect and compare notes (so to speak) with other Beta testers.
Thanks for giving the Office 2010 Beta try. I hope you like the new improvements!