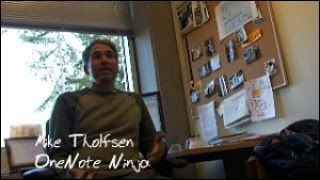 By day, Mike Tholfsen is the Principal Test Manager on the OneNote team here at Microsoft. By night, Mike's the "OneNote Ninja" and the composer of the now infamous OneNote anthem.
For the past year or so, Mike's been a tireless and passionate advocate for driving OneNote awareness and adoption in education. I'm pleased to announce that Mike — after much nudging from his co-workers — has finally decided to take up blogging and share much of his useful knowledge first-hand. You can visit his new blog "OneNote and Education" right here on MSDN.
As Mike states in his welcome post, the purpose of his blog is to explore how OneNote can enhance the learning environment for students, teachers, and corporate trainers. Mike has done an awesome job in bringing this type of information to his teammates and he's now ready to share it with the OneNote community at large.
While Mike is still getting settled in, you can check out his recent webcast in my previous blog post, "OneNote 2007 Webcast: Personal Usage & Collaboration." It contains tons of useful info for getting started with OneNote 2007. Plus, make sure you check out his recent Channel 8 video called "OneNote, the Mega-Tool for Learning."
Welcome to MSDN Blogs, Mike!