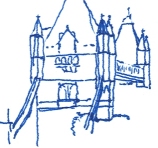 My wife and I recently spent several weeks traveling around England and Scotland. (One reason I wasn't at CAST.) An important part of our journeys was searching out nice nooks for noshing. We found several establishments which utterly delighted our tongues and our tummies. If you are ever in London, England, treat your body to:
And if you are ever in Edinburgh, Scotland, your body deserves trips to:
Thanks to the denizens of HappyCow.net for suggesting these to us!

*** Want a fun job on a great team? I need a tester! Interested? Let's talk: Michael dot J dot Hunter at microsoft dot com. Great testing and coding skills required.