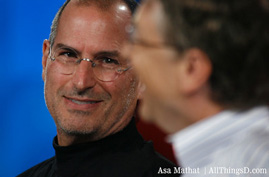 Reading an article like this in Wired Magazine in the Cult of Macintosh column by Leander Kahney.
Here's an excerpt:
Gates is the cutthroat capitalist. A genius maybe, but one more interested in maximizing profits than perfecting technology. He's the ultimate vengeful nerd. Ostracized at school, he gets the last laugh by bleeding us all dry.

On the other hand, Jobs has never seemed much concerned with business, though he's been very successful at it of late. Instead, Jobs has been portrayed as a man of art and culture. He's an aesthete, an artist; driven to make a dent in the universe.

But these perceptions are wrong. In fact, the reality is reversed. It's Gates who's making a dent in the universe, and Jobs who's taking on the role of single-minded capitalist, seemingly oblivious to the broader needs of society.
and

On the evidence, he's nothing more than a greedy capitalist who's amassed an obscene fortune. It's shameful. In almost every way, Gates is much more deserving of Jobs' rock star exaltation.
Talk about putting a little spring in your step. I'll be bouncing my way to work tomorrow morning 🙂