PDC2008 is just a few days away, I'm leaving tomorrow very early for a flight through London Heathrow.
Making session choices
It's hard with so many sessions at the same time, I have about 4 sessions checked per time slot… that doesn't look good. At least I won't miss any of the keynotes since no other sessions go on at that time 🙂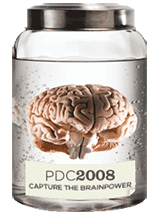 Some sessions I hope not to miss:
https://sessions.microsoftpdc.com/public/timeline.aspx
Sessions around "Developing your first Cloud Service", A Lap Around Cloud Services, A Day in the Life of a Cloud Service Developer
The Future of C#, Anders Hejlsberg – need I say more?
A Lap Around 'Oslo", "Oslo", the Language… and more of that (WF 4.0)
Developing for Microsoft Surface, Brad Carpenter, Robert Levy. When can I get my hands on one of the big tables?
Microsoft .NET Framework: Overview and Applications for Babies, Scott Hanselman. Funny title but I think it's going to be a very interesting session on building applications with the newest technologies for client (WPF) and a front-end site using ADO.NET Data Services, MVC, and dynamic data. And of course Scott is a wonderful speaker. Actually have quite high expectations from this one.
Luca Bolognese on F# – I saw Luca give a LINQ session last year at Tech Ed Barcelona, fantastic speaker!
"Live Services: A Lap around the Live Framework and Mesh Services", with Ori Amiga. If you have seen the Channel9 video with Ori you will not want to miss this session.
In addition to this, there are quite a few other Live & Mesh related sessions I want to attend: Live Services: Mesh Services Architecture and Concepts, Live Services: FeedSync and Mesh Synchronization Services, etc. And not to forget the "Live Services: Making your Application More Social" session by Angus Logan, what can I say, I'm a fan…
Inside the Olympics: An Architecture and Development Review, Eric Schmidt, Jason Suess. Because I want to learn more on how the NBC Olympics site was implemented.
And so much more!
Download the full sessions schedule here, check out the latest buzz on www.microsoftpdc.com and don't feel left behind if you are not going: keynotes will be streamed live. Yes, that's right!