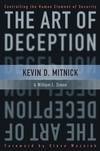 The Art of Deception: Controlling the Human Element of Security
Kevin D. Mitnick, William L. Simon, Steve Wozniak (Foreword by)
ISBN: 0-471-23712-4
Hardcover
368 pages
October 2002
US $27.50
---
I'm not sure whether Kevin Mitnick is a good guy or a bad guy, but this book certainly is unique and valuable. As developers, we have a tenancy to gravitate toward technical solutions bit this book tells tale after tale of security breaches that were primarily available to hackers through human error and judgement defects. Though it seemed to me that the book got a bit repetitive by the second half, the message of the book is resoundingly clear and one that seems to have avoided consideration by most material on this subject matter.
This book is not only great for developers and other IT professionals but really anyone interested is any kind of security.
If your approach to security doesn't include the "Human Factor" then it's incomplete.