Recently, a number of people have emailed me and indicated that their security software raised warnings or blocked their download of Fiddler from the official Fiddler website. Now, I've reached out to vendors to help them correct their false-positives, but there are many vendors of "security" software, and only one of me.
As an end-user, you can easily validate the integrity of the Fiddler download packages—they're all digitally-signed with my certificate. You'll see the certificate information presented by Windows before the installer runs: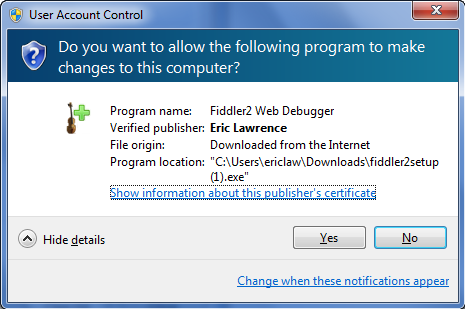 If you want the full details, you can click the link provided to view all of the information in the signing certificate. For the super-detail oriented, you can even compare the signer's serial number against that of my certificate: 38 ce b3 26 90 c0 05 79 d1 c5 7d fb ea 88 80 c8.
If you're not running IE8 yet, you should upgrade to take advantage of SmartScreen Filter, which helps protect you from socially-engineered malware, without the false-positives. 🙂
-Eric