I just finished reading Sojourner: An Insider's View of the Mars Pathfinder Mission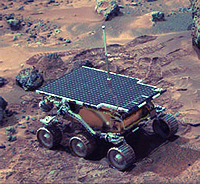 It's written by Andrew Mishkin, a systems engineer at JPL, and gives an insider's view into how the Sojourner team managed to design, build, staff, and operate the rover for $25 million. It's a very engaging read, covering both the design and the team challenges that they faced.
A great accomplishment, all controlled by an 8085 processor, Sojourner set the stage for Spirit and Opportunity, still roving on a planet near you.
Recommended.