So what is that cloud thing? 42Spikes has this great picture of it: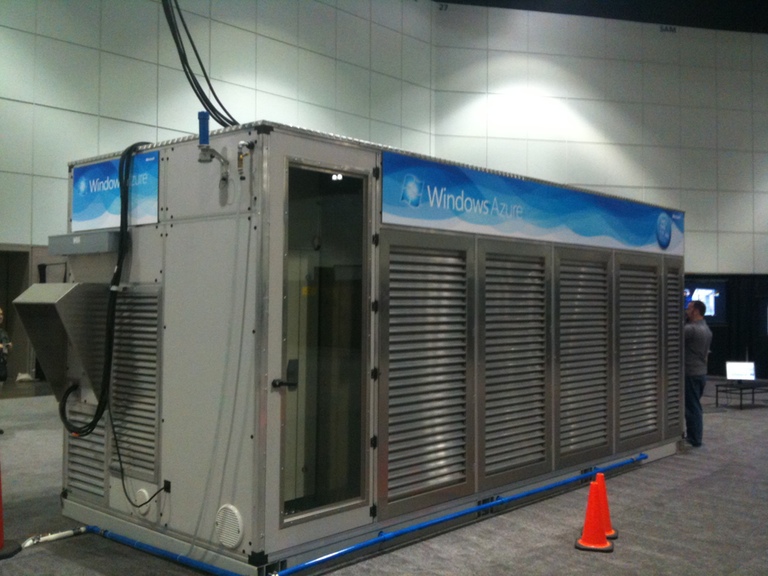 This is a metal container filled with interconnected servers and cooling systems. Not very puffy, I should say.
Now that we know what it looks like, we can learn why we should use it.
If you've had a chance to watch the D³: LIVE & INTERACTiVE special with Paula Rainford, Current IT Market Conditions and Hiring Trends in 2012, you'd know that the need for developers with Cloud Computing knowledge and skills is increasing. So for the student, this means new graduate + Windows Azure skills = improved changes in the job market. Windows Azure skills and knowledge are being sought after by companies of all sizes. When you have a chance, take a look at these videos that teach you all about Windows Azure and what you can do with it. If you prefer to learn in-person with an instructor, look for a Windows Azure Camp in a city near you.
So why bother learning it right now? Aside from a brighter future, Microsoft Cloud Evangelist Jonathan Rozenblit has a Tim Horton's gift card for you to reward yourself for learning something new. A student will never say no to something free, right?!?! How do you get your hands on the rewards? Simple. Jonathan has a very easy 4 step tutorial that will get you those Canadian drinks in no time. He even gives you a finished sample that you can deploy right away and learn the code later! Just make sure you follow his instructions, learn and have some coffee with that cloud.
Enjoy!
Offer good only in Canada and is available to the first 200 individuals, including residents of Quebec, who complete the hands-on lab, are verified by the Microsoft Canada Team, and have received a verification email from cdnazure@microsoft.com. Limit one gift per person. The gift is a $10 Tim Horton's gift card. The offer is non-transferable and cannot be combined with any other offer. Due to government gift and ethics laws, government employees are not eligible to participate. This offer is valid until all 200 gifts have been awarded. Any gift returned as non-deliverable will not be re-sent. Please allow up to 3 weeks for verification and 6-8 weeks for delivery of your gift which will be provided to you via mail. We reserve the right to substitute a gift of equal or greater value