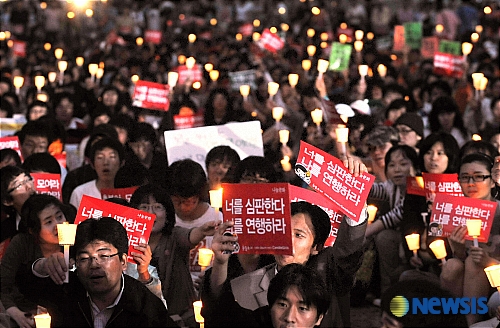 [The words mean "We punish you. Arrest me." Appeared after the police started taking people including middleschool/highschool students via Media Daum News]
..
Here's how the government sees the people here:
[This is a presentation slide from a policy communication education by PR subsidiary of the Ministry of Culture, Sports & Tourism. Spokesman from 22 government agencies attended. via OhMyNews]
Translation(please bear the awkwardness, there are portions I don't understand):
Title: Manipuliate/flatter the stupid mass
Lacks critical reasoning –> Brainwashable by alluring them using made up and amusing stories
Results of some of the university's 'enterprise-friendly' process(of course, similar to practicing "Job interviewing")
Accepting a few critical factor and doing some magic will surprisingly stick pins easily
Mixing Plausible sentimental rhetoric and patriotic grandeur
Make max use of the Internet Media and the citizens' group's corruption(or realization)
At least 30% of the people who surrendered to Chosun/JoongAng/DongA(Korea's major media) will definitely be effective.
Internet Bulletin boards are for satisfying the Poor and Lonely people's grudge. –> needs warm and kind response
Invent/Develop/Preoccupy trend items such as "Social Responsibilities" –> easy and amusing appeal point.
Develop ideology items, secure and manage a delivery and distribution channel.
Same goes to the Critical Media Critics(Media Today, Media union's report, PD association's bulletin)
Most of the critic trend includes non-mainstream frustrations –> flatter and they will like it very much.
Reconsider interfaces centered to Conventional main-stream media and opinion leaders.
Why feed and bother kids(the reporters) when you can bribe them with luxury presents anyway.
Rather, give them "a moderate snob item" and let them get famous.
Rhetorical advantage
To lure the mass with shiny good looking words –> This is the actual use of Consulting Words.
Pro: Export, Overseas Development, Investment, …
Con: Plutocrat, Nobles, Vested rights, Conservative, …