Rok Hastrik, quoting Dan Gardner:



"RSS has evidently become a strong pillar of Microsoft strategy. Wish I came up with this statement."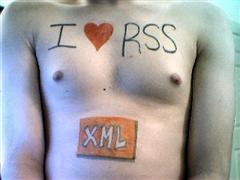 (not mine)
From the Dan Garnder post at ZNet:



"Microsoft is using RSS 2.0 as a major conduit of myriad content — including business-to-business applications interactions — inside, across, and for wide area import/export of feeds throughout its software systems. Remember the digital nervous system? Well, RSS just became a new variety of spine. Very cool. This is near and dear to my heart.
And mine...



"... This may not be as momentous as when Gates shocked the world in December 1995 when he lurched the good ship Microsoft toward the Internet. It may not be as surprising as when he made pigs fly with his licensing of Java not long afterward. But Microsoft's pervasive embrace of RSS as not just a technology but as a paradigm is nonetheless a significant development in the evolution of PC technology.




The capitalization on RSS as a productivity catalyst by users and business is just beginning. Microsoft is assuring that this is a fait accompli. Now is the time for creative experimentation and innovative thought leadership about how these RSS capabilities can improve knowledge flow and spur a more connected, collaborative, and communal world."
'Bring RSS data to the user' makes it to #8 in the Microsoft WIndows Vista top 10 list for developers:



"10 things you can do to make your application shine when it runs on Windows Vista.




Update: